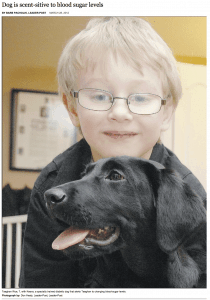 There is something odd about this article (which is appearing in a ton of news media). The story has either some critical details wrong, left them out or someone is being highly mislead. I don't question that a dog can be trained to do this but I have never (nor have any professional service dog trainers I know) ever heard of a 16 week old service dog that would ethically be placed, with or without the skill-set claims made in the story. Somehow the puppy, ($19,000) is trained to spot blood sugar changes while on the sidelines when the child is playing soccer. It will have on-going training done by phone and internet with 90 day visits from the supplier based whom is based in another country. The trainer/supplier claims to do about $6,000,000 (yes million) a year placing dogs for this purpose. We may not have heard the last of this story. The sequel may be less warm and fuzzy.
Read the article and add your comments: The link went dead recently and I've written the reporter for an update. You can still read the story via pdf file by clicking on the image or following the link at the bottom of the column.

Here are some resources to give you an idea of what I'm told one would normally expect from an organization providing this sort of dog.
http://www.dogs4diabetics.com/standards/accreditation/
http://www.dogs4diabetics.com/programs/d4d-training/
http://www.youtube.com/watch?v=daHOQTJkxBA
If you have a problem with the link here' a pdf of the story. Service Dog is scent-sitive to blood sugar levels