I have a 5 1/2 year old male Bichon Frise that about two years ago lost his house training and started peeing in the house. I had him thoroughly checked for various things at the vet and all possible things were ruled out. My feeling is it is his way of showing he is unhappy when we leave. He is now peeing in other places. If he is caught in the act he is sprayed with a water bottle and given a time out in his crate.
He is treated like royalty-sleeps on the bed etc. just so you don't think he is neglected, actually just the opposite!
Julie
Hi Julie,
I'm not getting why you think he's "acting out" because "he is unhappy when we leave" as you're indicating it happens when you're home as well. It's possible that his house training missteps are anxiety related if the incidents when you're home coincide with some sort of stressful occurrence. However, it's also possible this is connected to his being treated like royalty rather than a dog.
I think a lot of dogs see their humans at best as college roommates rather than leadership figures. This often devolves into behaviour issues and always makes them harder to resolve. Your dog might be just wondering why you're not saving yourself a walk to the bathroom too. It's hard to say, so it's worth hiring a balanced trainer to come in and have a look at your house training problem and work out what's behind it. Trying to resolve house soiling that is anxiety oriented vs relationship oriented vs just an insufficiently organized approach (see the last paragraph regarding my free house soiling resolution cheat sheet.)
I know there are dog trainers that think a "time-out" in a crate is more humane then actually saying, "No!" in a manner meaningful to the dog. I'm not one of them. In nature, a "time-out" is something a mother dog, wolf, ape, gazelle etc. might do to her young if she wants something to eat them. It just isn't used as an "educational" tool. I'm not saying that time alone is not something that a dog might perceive as a discipline but it's an unnecessary workaround and makes it harder for a dog to connect the dots. In the animal kingdom, if discipline is required, it happens on the spot in a clear and fair manner. A timeout would risk a return to find nothing left but blood, bones and fur so I'm pretty sure it's not the best way to help a dog connect the dots.
Contrary to the more politically correct, but I think sadly misguided dog trainers, discipline and abuse is not the same thing. Just because they can't see the dog when it feels bad doesn't mean that's more humane then addressing the behaviour in an immediate manner.
Besides, crates aren't for punishment they are for rest, sanctuary and moments of the day when diligent supervision is required but isn't practically possible. (Here's a tip on how to make a crate slightly more comfortable.)
The water bottle is another piece of new-wave bizarreness. It's another illogical connection using weak science to define what a humane "correction" is. Some dog trainers think that making a dog feel bad about something by spraying water at it is more humane than a well-timed fair verbal correction.
The truth is that both are useless if the dog isn't making the right connection. Depending on the timing and perceptiveness of the person holding the water bottle I've seen more than one dog just think that water bottles are horrible. One might say that's better than the dog thinking their human is horrible but I don't agree that is even possible in a normal human/dog relationship. We're all wired well enough to cope with fair discipline provided by the teachers in our lives and the overall time a dog spends with its human companion is by far counterbalanced with love which keeps the discipline component in context.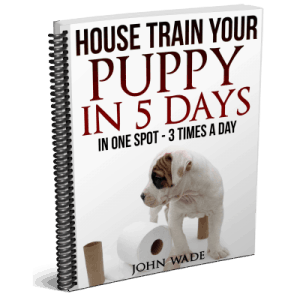 Send me an email requesting a free house training program to help get on track to resolve your dog's house soiling problem. (I recently added a simple progress chart) It will be a big help get your dog back on track. Keep in mind this is the basic approach for getting a pup on track for learning where they should eliminate, to do so 3 times a day on a schedule and to do so in a small area so you aren't cleaning up "landmines" all over the yard. If you want something more detailed then the cheat sheet and especially if you are having a long-standing problem I'd recommend buying my more detailed e-booklet – http://store.askthedogguy.com/how-to-housetrain-a-puppy-in-5-days-or-less-by-john-wade/ (The e-booklet is only $4.97 but I still think hiring a balanced trainer is a better first step.)
Pawsitively yours,
John Wade